April-June 2016
FEATURES
Pioneer of Private Equity Finance
Known as the forerunner for private equity financing in India, Harish Fabiani catches Up with The Sindhian from Madrid to talk about how life and his companies, Americorp Ventures and India Land, have progressed over the past decade
Actor Revisited
The Sindhian revisits the life of actor Preeti Jhangiani, as she speaks to us about everything from movies to motherhood
Meet The Beverage Businessman
The Sindhian charts the journey of corporate honcho Niranjan Thakur, who has gone from being the executive director at Shaw Wallace to running his own entrepreneurial venture in the beverage industry
The very first of its kind, this plush quarterly is dedicated to chronicling the ethos, enterprise, and aplomb of the Sindhi community.
A Magazine that brings you Insights into Sindhi History, its Culture and its People.
A Magazine that takes you places and showcases Sindhis from all over the world.
A Magazine that informs and connects Sindhis globally.
Published 4 times a year.
Gift someone a legacy. Gift them a subscription of The Sindhian
The Spirited Doctor
Prerna Mewawalla has devoted her life to treating patients with life-threatening cancers. The Sindhian chalks out her journey to becoming a hematology and stem cell treatment specialist in Pennsylvania

It's All In The Food
The Sindhian speaks to restaurateur Ashish Sajnani about how his company, Opa hospitality, defines good eating
Building On A Legacy
As one of the directors of the Ador Group, Deep Ashda Lalvani has been upholding the legacy of the 108-year-old business. He speaks to The Sindhian about successfully running one of the India's most reputed conglomerates
ANOTHER AWARD FOR
THE SINDHIAN!
The Sindhian was honoured with the Sahyog-Sahyadri Sindhu Award at the Doordarshan premises at Worli in Mumbai in March 2013. The award was for excellence in the field of publishing.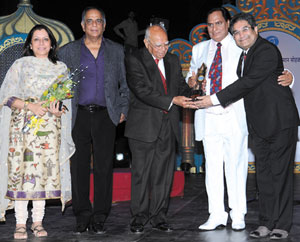 THE SINDHIAN GOES DIGITAL !!!
From Diwali 2012,The Sindhian is available for a single issue purchase or subscription in a DIGITAL format too.
You can Flip pages as you would in a real magazine, yet read it anytime from anywhere in the world.
Virtually Real!
Available on all platforms such as Android, IPhone, IPad, Apple, and PC at www.magzter.com and www.readwhere.com
Promote your community magazine. Tell your friends & family, or if you feel generous, gift them a single copy or a subscription.
Visit MAGSTER & buy your copy today!