July-Sep 2016
FEATURES
Stand-up comedians Aditi Mittal, Atul Khatri and Nitin Mirani set their jokes aside as they speak to The Sindhian about life in the business of laughs
The Best In Stand UP
Atul Khatri
India's Funny Girl
Aditi Mittal
Comedic Genius
Nitin Mirani
The very first of its kind, this plush quarterly is dedicated to chronicling the ethos, enterprise, and aplomb of the Sindhi community.
A Magazine that brings you Insights into Sindhi History, its Culture and its People.
A Magazine that takes you places and showcases Sindhis from all over the world.
A Magazine that informs and connects Sindhis globally.
Published 4 times a year.
Gift someone a legacy. Gift them a subscription of The Sindhian
Her Father's Daughter
Television personality and MD of Swayam Infotainment, Pratibha Advani speaks to The Sindhian about making it big on the small screen

It's All In The Mind
Catch accredited psychiatrist Dr. Shyam Lulla, in conversation with Amaira Chhabria about his journey of doctoring the mind
Journey of a Thousand Smiles
After 35 years in the dental industry, Mahesh Lalwani has built a prosperous international repute. He speaks to The Sindhian about his endeavor to brighten smiles across the world
Fitness Fanatic
Amaira Chhabria chats with bikini athlete Chaya Keswani about her career in bodybuilding, and her fitness routine
ANOTHER AWARD FOR
THE SINDHIAN!
The Sindhian was honoured with the Sahyog-Sahyadri Sindhu Award at the Doordarshan premises at Worli in Mumbai in March 2013. The award was for excellence in the field of publishing.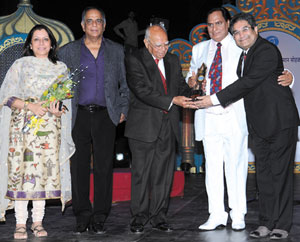 THE SINDHIAN GOES DIGITAL !!!
From Diwali 2012,The Sindhian is available for a single issue purchase or subscription in a DIGITAL format too.
You can Flip pages as you would in a real magazine, yet read it anytime from anywhere in the world.
Virtually Real!
Available on all platforms such as Android, IPhone, IPad, Apple, and PC at www.magzter.com and www.readwhere.com
Promote your community magazine. Tell your friends & family, or if you feel generous, gift them a single copy or a subscription.
Visit MAGSTER & buy your copy today!